WHAT EXACTLY ARE UI/UX DESIGN SERVICES?
By enhancing a web or mobile application's usability and accessibility, UI/UX software design aims to maximize user happiness. While maximizing usability and accessibility for its consumers, the objective is to improve the user experience via the use of visual design components. A well-designed product contains features that are simple to reach, have a clear user interface, and have intuitive navigation, all of which contribute to a quick and easy user experience.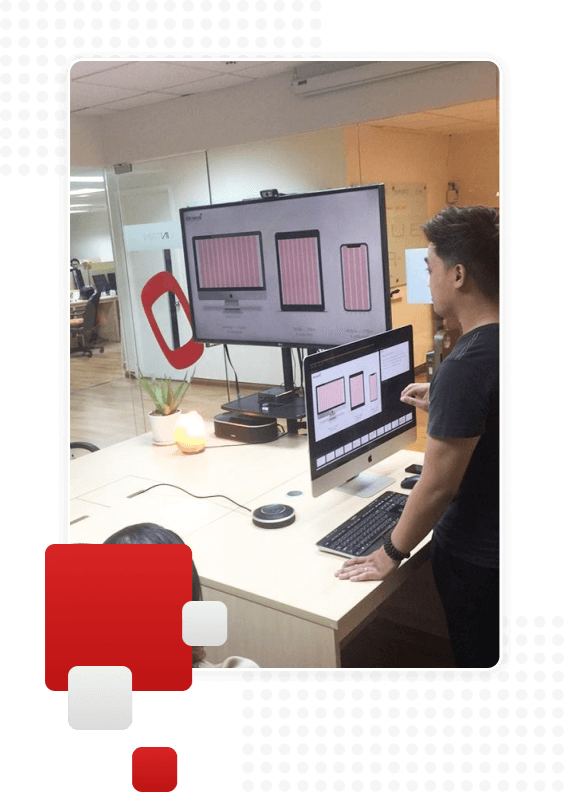 We can help with the design process from beginning to end. So whether you need a full-scale redesign or just some tweaks here and there, we'll be with you every step of the way.
Our UX services include:
UX research
This is the first step in our UX process; we will identify, define and prioritize user goals to determine success for your product. We use various research methods to do this.

Personas & Scenarios
After understanding your users, we will create realistic user personas based on actual customer data. These are the archetypal persons that represent user types with specific goals and motivations.

User flow
After creating several initial user paths, we'll test them out with real customers; if they are successful, we'll iterate until you have a user flow that works.

Interaction design
We will work with you to define and implement your product's interaction design. This includes information hierarchy, interactive elements, and smooth transitions between different states in the product's life cycle.

Wireframes & prototypes
These are the blueprint of your website or app - if it doesn't work, then everything will come crashing down around you! We'll create wireframes to illustrate the site structure and page hierarchy which help visitors navigate through your product
Usability testing / Heuristic evaluation
We'll determine if our designs match the initial research and create a set of test scenarios for your product to see what users can do easily and what they can't.
OUR UI DESIGN SERVICES
At Orient, we don't just talk about design - we create beautiful and engaging experiences that help build your brand. We work with you to understand the product and the audience it's intended for before designing a UI/UX solution which reflects your vision and goals.
Our UI services include:
UI design for web applications
We will create a beautiful and visually-appealing web application. Your site needs to be easy to use and engaging for visitors, and we can help you accomplish this!

UI design for mobile apps
Your app's UI is just as important as your website - if it isn't easy or fun to use, people won't use it. We understand the importance of intuitive app design and can create an engaging UI for your mobile apps.

UI Wireframes
We will design the layout, structure, and interactivity of your product. Wireframes are like blueprints for a website or app. We can also create interactive prototypes that look exactly like the final version of the product!

Icon sets & illustrations
Websites, apps, and software products all require icons to illustrate specific functions; we can create a set of icons that provides a consistent look for your product.

Animation and transitions
We can add smooth animation and transitions to your UI design, making your product appear more engaging and visually appealing. This is an excellent way to showcase the interactions users can make in your app!
UI Frontend Development
Orient Software has more than 15 years of experience in creating beautiful and functional front-end applications. We will take your UI/UX design from a static image to a beautiful, interactive web or mobile application.
UX vs. UI
UI, or User Interface, is the design of a user interface. UX, or User Experience Design, is the process that brings users, interfaces, and products together to create a fantastic experience for your customers. Our team provides both UI and UX services: we'll make sure your product works great and looks good too.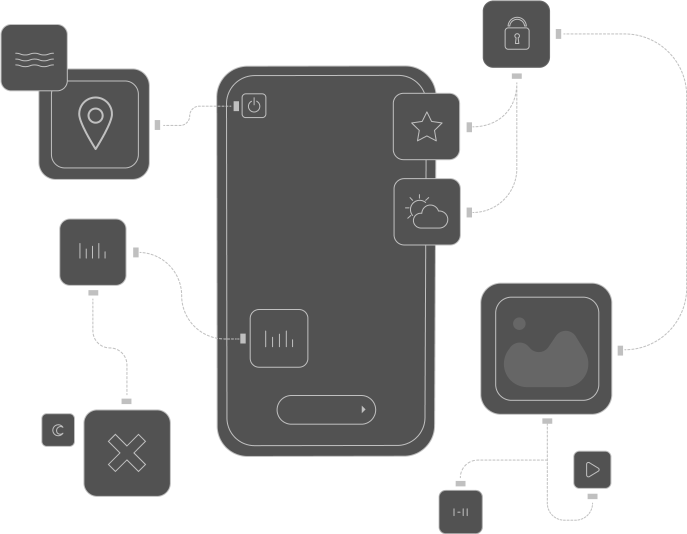 Why are UI/UX design services important?
The average customer needs just seven seconds to form an impression of your product. Then, another 90 seconds are spent checking out the design before leaving the site if they don't find what they're looking for quickly enough. While this may sound grim, it simply means that you have to be good at what you do!
Design is all around us and so important in our lives. Whether we use a smartphone, tablet, computer, or TV; Whether we browse the internet or go shopping; Whether we make a phone call or send an email - design is all-pervasive.
If you want to create an amazing website that effectively connects with your target audience, our experts at Orient Software can help you achieve that. We understand that user experience is paramount to the success of your business. We are passionate about UI/UX, and our collaborative approach to working with you makes it fun for us both.
ADVANTAGES OF UX/UI SOFTWARE OUTSOURCING

Latest Trends And Technologies
UI/UX design and development are constantly changing. Our engineers are well-versed in all current technologies and frameworks.

Adapting To Your Needs
We employ a highly iterative approach to development. As a result, our clients control what we build, how it looks, and how it behaves.

Access To The Best Talent
We have our UX design team as well as an extensive network of partners around the world. This gives us access to top talent specialized in your field, and we're able to adapt rapidly to your project.

Scalability And Flexibility
We work with enterprises as well as start-ups. We have the experience and expertise to scale our engagement to your specific needs.

Time And Cost Savings
We know your business. We can give you designs and prototypes before you start development. This means we can accelerate your time-to-market, reduce development costs, and eliminate additional rework.

Improved Product Quality And Efficiency
We're both technology agnostic and user-centric, so we can help you find the best solution for your requirements — whether it's a custom build or better suited to an existing off-the-shelf product.